After a long but luxurious flight, Alexandra Nilsson has finally landed in the Maldives. A true hard-working influencer as she is, she has already filmed and published a collaboration and an Q&A on Instagram stories .
Some of the questions Alexandra's followers asked her.
Är resan sponsrad eller helt privat? (Genuint nyfiken) Ser magiskt ut!! Njuuut!
Resan är inte sponsrad alls! I wish – är ju inte direkt gratis.
Is it as magical as it looks? Or is there something behind the "scenes"?
It's more magical irl. Actually completely sick but now I understand the thing with the Maldives hehe .. I took this picture a little quickly the same evening we arrived!
Ja, hur mycket kostade det? Haha. Är det rimligt att tro man kommer under 100 k för 2?
Ja alltså om man bokar via ving eller liknande kanske man kan hitta resor för runt 70 k. Men då blir det "vanligt" hotell och kanske inte den Maldiverna upplevelsen man tänker att man ska få. Men vad vet jag.
Är de dyrt att leva där? Så sugen på att åka men de ser dyrt ut
Ja det är SVINDYRT! En solkräm tex kostar 1000 kr, likaså ett par flipflops Dryck är också dyrt, ett glas vitt tex kostar 200 kronor!
Hur gick flygningen för dig som är rädd?
Det hjälpte att resa finare. Hade mycket annat att titta och tänka på. MEN så fort det blir turbulens får jag panik och tror jag ska dö. Då hjälper ingen rysk kaviar inte. Då tar jag hjalp av min medicin..
Is it empty of people or how can "everyone" who is in the Maldives get nice pictures without a lot of people in the way?
It is quite "empty" because you live on islands. And we guests have the whole island to ourselves. It feels "empty", but it's so nice! Had this swing, for example, been in Spain, you would probably have had to queue to be able to take photos in it.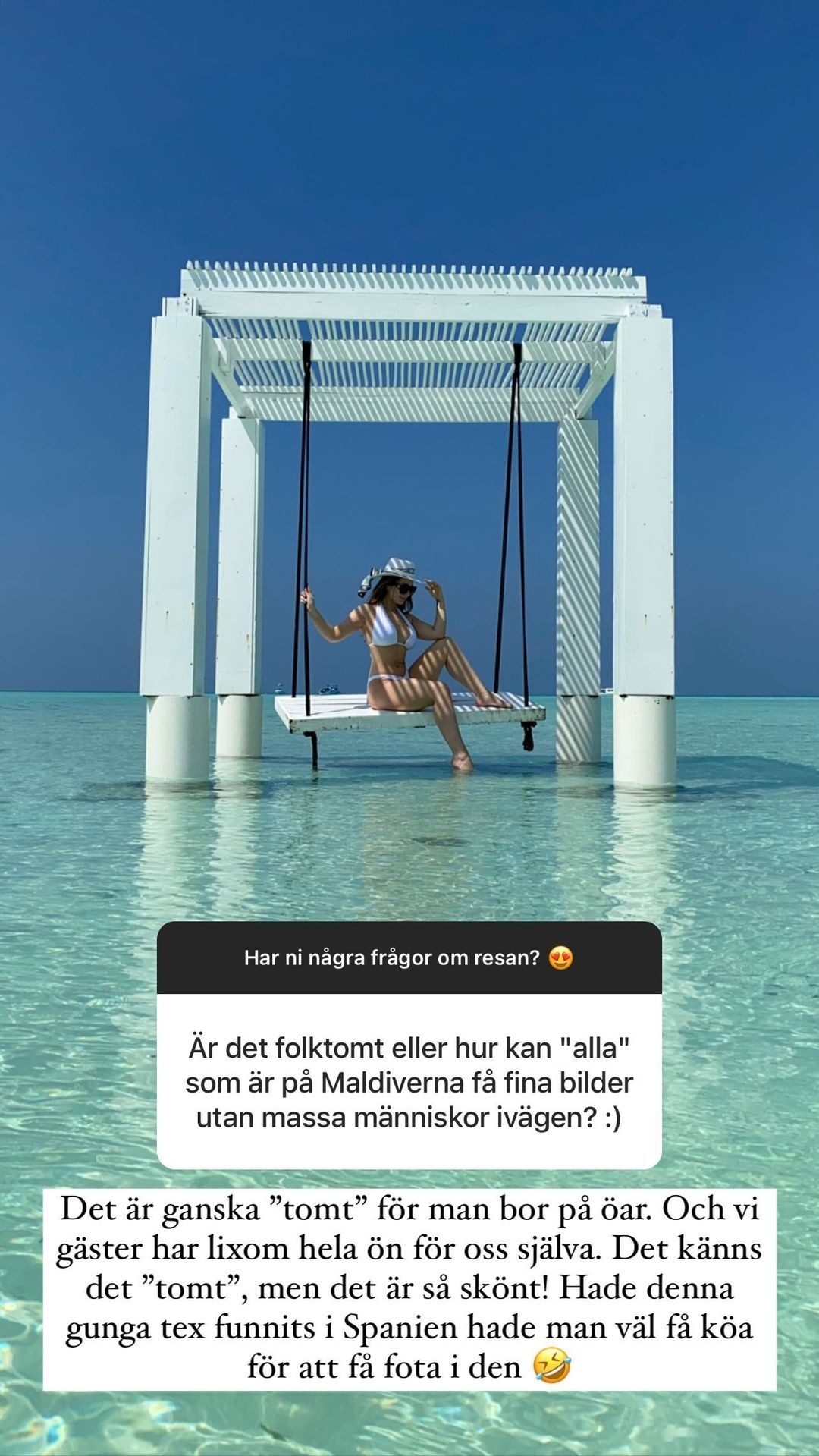 Stämmer det att det finns små hajar som simmar i vattnet bredvid ens ben?
Jaa! Vi såg en haj NYSS som var typ 2 meter Aldrig sett en haj förut blev så chokad. Men är inte intresserad av att simma med dom fast det sägs att dom är ofarliga.
Vad kostade resan totalt?
Typ 200 k. Men notera att man kan få resan billigare och dyrare, beroende på vad man är ute efter.
Screenshots: instagram/alexandranilsson