Jessica och Angelica Lagergren kontaktades av produktionsbolaget bakom programmet Dr Phil då en man hade utsatts för flera bedrägerier dvs catfishing av en kvinna(?) som lurade honom att betala pengar till henne. Och tydligen så gifte sig mannen med henne.
Kvinnan som kallar sig Maria, använde sig av systrarna Lagergrens bilder för att lura mannen. Jessica och Angelica medverkade via Skype vilket de skulle enligt vad de tidigare har berättat om. Jag skrev om det HÄR.
Nu har programmet sänts i USA skriver Jessica. Och programtrailern har publicerats på Facebook och Youtube. Du kan se fyra trailers här nedan och den sista är med en del av Skype-intervjun med Angelica och Jessica.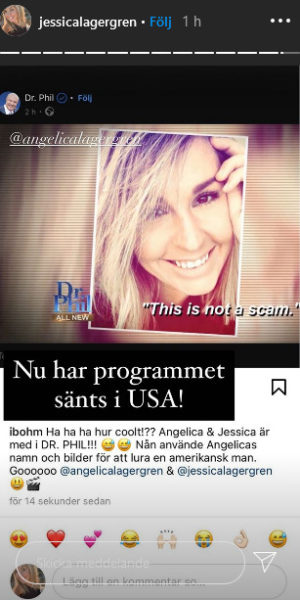 I programpresentationen står det följande:
Shelby wants to find the truth about her father, David's, online relationship with a woman he has never met. David says he met a woman named "Maria" online, and she has an inheritance of $10 million. David says he knows for a fact that "Maria" is a real person and can't wait to introduce her to his daughter one day. Shelby says her relationship with her dad is broken and wishes he would spend more time with her, rather than chasing a woman who she fears doesn't exist.
Alla screenshots: dr.phil.com/youtube, jessicalagergren/instagram