Joakim Lundell has answered questions in his Instagram story. He says that the salary he chooses to take out of his various companies he invests in shares. For example, his Tesla shares are worth SEK 3 million right now. In total, his shares are worth SEK 8-9 million according to Joakim, who also says that Jocke & Jonna AB will have a turnover of SEK 25 million this year.
He definitely says no to a third child but is considering getting one more Lamborghini and a garage for the cars.
The movie Feed will have its cinema premiere this autumn. "I´m so excited and proud of this. A sick dream to launch my own film in all cinemas in the country! " tells Joakim. After the premiere, the movie will be shown by a, so far secret, streaming service.
Joakim values his house to SEK 16-17 million.
His new roaring Lamborghini Avendator has increased SEK 600,000 in target price and now costs according to Joakim SEK 5.5 million. He believes in a substantial increase in value and estimates that the value is going to be SEK 8-9 million in 5 years.
He sees himself as a director / producer in Hollywood in 10 years. "Will give everything for that goal," says Joakim.
When asked if he will be doing Youtube even if his career in film production goes well, Joakim answers "Yes, absolutely! Youtube is not about making money for us, but we will run as long as we think it's fun. "
Joakim says that his stalker is now turned off on all platforms that are running now. "So it´s nice, I can enjoy as long as it lasts simply ha, ha, ha!"
This is what he thinks about the danish person who burns the Koran and subsequent riots in different cities. Riots where several police officers have been injured.
What do you think about riots and people burning the Koran?
"Hard to decide who is the most stupid actually! An idiot who provokes to get riots, and on the other hand backward idiots who attack society, civilians, fire brigade and police instead. Two mistakes never become a right ..."
What do you think about the weird guy who burns the Koran and how the people behave when something like that happens?
"Everyone involved is an idiot."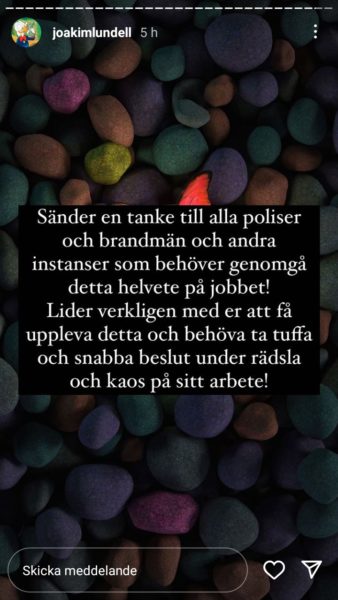 What do you think about the situation that is going on right now in Navestad and Skäggetorp?
"Really fucking disgusting! Pure and simple hate .. There are no excuses at all. And these crimes that are committed against police and fire brigade and others should give prison sentence. "
"Feeling for all police officers and firefighters and others who need to go through this hell at work! Really suffer with you who experience this and have to make tough and quick decisions in fear and chaos at work! "
Screenshots: instagram/joakimlundell